467 Nashua St, Milford, NH 03055
"We're the Birds to Call!"
CIARDELLI FUEL - UPCOMING EVENTS
2019 ANNUAL KEENE HOME EXPO
Saturday, April 13, 2019 • 10 am - 2 pm
Sunday, April 14, 2019 • 10 am - 2 pm
You could win 100 gallons of oil or propane when you visit Ciardelli Fuel Company's booth at the 2019 Annual Keene Home Expo! Be sure to stop by the Ciardelli Fuel booth to say hello and enter to win.
---
2019 HOLLIS FAST 5K
Thurday, June 13, 2019 • 6:30 pm
Are you and your family running in the 2019 Hollis Fast 5K? The Ciardelli Fuel Team is looking forward to racing alongside you! Stop by our table at the finish line to get your free "Fuel Up with Ciardelli" water bottle (while supplies last).
CIARDELLI FUEL COMPANY NEWS
CIARDELLI'S SPRING 2019 NEWSLETTER
posted: Friday 4.5.19
The Spring 2019 Ciardelli Fuel Company Newsletter is now available. Grab a copy and read up on Ciardelli news, upcoming Ciardelli Fuel events, Air Conditioning installation & tune-up discount offers, and even 2 contests where you can win a system tune up or $100! Ciardelli customers will find the latest edition in their mailbox, but if you prefer an electronic version you can download the PDF.
---
CIARDELLI FUEL NEW MOBILE APP
posted: Friday 4.5.19
Ciardelli Fuel has a brand new app that you can download for your mobile device. The free app is a great way to access your account and allows you to conveniently do things like check your balance, pay your bill and order fuel. Download the App for Apple iOS devices at the App Store.
---
CIARDELLI FUEL OPENS NEW OFFICE IN KEENE NH
posted: Wednesday 12.12.18
In addition to our main office in Milford NH, Ciardelli Fuel has added a brand new second office in Keene NH. This new location will help us better serve all our customers in the Cheshire County region. The new office is located at 639 Marlboro St, Keene, NH 03431 and can be reach by phone at (603)352-0343.
---
CIARDELLI FUEL VOTED BEST FUEL DELIVERY 2018
posted: Wednesday 12.12.18
Ciardelli Fuel is proud to be named Souhegan Valley's "Best Fuel Delivery 2018" by the Souhegan Valley Chamber of Commerce. Many thanks to all those who voted for us and to the dedicated team members here at Ciardelli for doing an award winning job!
---
CIARDELLI FUEL NOW OFFERS
GOODMAN FURNACES & AIR CONDITIONERS
posted: Wednesday 12.12.18
Ciardelli Fuel is pleased to welcome Goodman Furnaces and Air Conditioners to our product line offerings. Goodman delivers time-tested energy-efficient technology to help keep your home nice and comfortable.
CIARDELLI FUEL - OLDER NEWS
CIARDELLI FUEL CONTEST WINNERS!
posted: Thursday 6.22.17
June was an exciting month of giveaways to celebrate Ciardelli Fuel's 60th Anniversary.
SPRING CONTEST 2017
Hundreds of customers answered our online quiz and were entered in Ciardelli Fuel's Spring Contest 2017. The lucky winner of the Free A/C or Heating System Tune-up was Noreen O. (Milford, NH).
UGLY BOILER CONTEST 2017
The winner of a new boiler in our Ugly Boiler Contest was Ed VanSickler (Weare, NH). Ed's winning Ugly's Boiler can be seen in the photo on the right.
Congratulations to the winners
and thanks to everyone who entered!
---
CIARDELLI FUEL IS NOW ON TWITTER!
posted: Tuesday 5.11.17
Our newly launched a Twitter page is another great way to stay informed with Ciardelli Fuel updates & news. Ciardelli Customers are encouraged to visit our page & follow us! https://twitter.com/CiardelliFuelCo
---
CIARDELLI FUEL NOW SERVICES
58 SOUTHERN NEW HAMPSHIRE TOWNS!
posted: Tuesday 5.2.17
Ciardelli Fuel's acquisition last year of Chabott Oil in Keene, NH means our service area has grown! We welcome new customers throughout our expanded delivery area & look forward to working with you!
CUSTOMER REFERRAL OPPORTUNITY!
All these new towns mean new opportunities for customers to save money thru our Referral Program. Refer a new customer & you'll receive an instant credit on your account and the person you refer will enjoy low fixed rate pricing - YOU BOTH WIN!
Offer can't be combined with other discounts or coupons.
---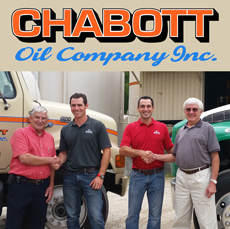 CIARDELLI FUEL ACQUIRES
CHABOTT OIL CO. IN KEENE, NH. (SUMMER 2016)
updated: Tuesday 5.2.17
Ciardelli Fuel is very excited to partner with the Chabott family and their customers. It is not often you can combine two families with similar stories and histories of hard work and reliability like you can in this circumstance. It is a perfect fit and we look forward to continuing Chabott's reputation of providing excellent service and competitive pricing on both oil and now propane in the Keene NH market.
---
MATT CIARDELLI NAMED SVCC's
"2016 BUSINESS LEADER OF THE YEAR"!
posted: Tuesday 6.28.16
Our very own Matt Ciardelli, President of Ciardelli Fuel Company, was the recipient of the "2016 Business Leader of the Year Award" from the Souhegan Valley Chamber of Commerce.
Congratulations to Matt for this well deserved honor!
---
CIARDELLI FUEL - 24 HOUR EMERGENCY SERVICE
posted: Wednesday 12.17.14
Ciardelli is proud to offer our customers 24 Hour Emergency Service when safety & extreme circumstances demand it. Now we've added an "Emergency Service" button on our website to help guide customers when they feel they may need emergency service.
---
CIARDELLI FUEL WELCOMES NEW CUSTOMERS!
posted: Sunday 11.9.14
Becoming a new Ciardelli Fuel customer is now faster than ever. Simply fill out and submit the New Customer Application and you're on the fast track to experiencing Ciardelli's top notch service!
Best of all, new automatic delivery customers are eligible for $100 worth of free fuel! ($25 off each of your first 4 automatic deliveries. Offer can't be combined with other discounts or coupons.)
CIARDELLI FUEL'S NEW CUSTOMER APPLICATION
---
CIARDELLI FUEL SELF HELP VIDEO PAGE
updated: Saturday 11.15.14
We've collected up our helpful Youtube videos right here on the Ciardelli website for your convenience. Topics are covered that give you the knowledge you need to make informed decisions about your heating system. Our goal is to save you time & money while keeping your system up & running.
How to Check Your Propane Fuel Level
Oil Heat Customers "No Heat Checklist"
featuring
a downloadable
"No Heat Checklist" PDF
for easy reference!
Ciardelli Fuel ~ "Helping Customers Help Themselves!"
---
CIARDELLI FUEL LAUNCHES NEW CUSTOMER ACCOUNT PORTAL!
posted: Saturday 7.12.14
https://myfuelinfo.com/ciardelli
Ciardelli Fuel is proud to announce the launch of our brand new online customer portal that features the following enhancements:
Access to more detailed account history - including payments, deliveries & service
View estimated delivery dates, current pricing and service reminders
Receive recommendations on how to make your heating & cooling experience easier
Start enjoying all the new Ciardelli Fuel Customer Portal features today and please let us know what you think.
---
DAVID KNOWLES RECEIVES
MASTER TRUCK DRIVER CERTIFICATION
posted: Tuesday 10.8.13
On September 16, Ciardelli's own David Knowles was awarded the prestigious Master Truck Driver Certification from New Hampshire Governor Maggie Hassan during a ceremony at the State House in Concord. Each year, the State of New Hampshire recognizes a select few individuals who have exemplified safety and leadership in the oil & propane industry. David is a valued member of the Ciardelli team and we are proud of his achievement.
---
Competitively Priced Home Heating and Cooling Service & Installation